format_quote
Brisqi has been a great addition to my workflow. I'm a big believer in Kanban for my current job, and wanted an offline, more personal solution. Brisqi accomplished that for me with a clean UI, good customization options, mobile app, and more. Plus, Ash is constantly updating the app and it's clear he cares about it. I highly recommend.
format_quote
As a scientist at a university, I am confronted with many different responsibilities, for which I have to be well organized, but I also have to pay special attention to data protection and security. That's why I need a task management tool that considered privacy from the start. Brisqi offers everything I need and through a minimalistic approach it is also very user friendly.
Work in corporate?
Can't use online apps?
Bad internet reception?
Need data privacy?

Brisqi has you covered!
Most productivity apps today are online-only with partial or no offline support.

Brisqi changes that - giving you a personal productivity tool that runs completely offline. Even mobile app runs completely offline after signing in once.
Offline-first Design
Brisqi is built for offline use with its dedicated database so you can continue working without any network interruptions.
Light & Dark Theme
Whether you prefer working late into the night or during the day. Brisqi has you covered.
Simple & Clean Design
Brisqi UI is simple enough for practicalityand clean enough to promote readability.
Cloud Sync
Brisqi automatically syncs your boards to cloud so you can access them from anywhere on earth.
Kanban Workflow
Kanban method let's you easily visualize your tasks at a glance. See the big picture and focus on what matters most.
Privacy Focused
Brisqi was built to ensure user's data stays private with end-to-end encryption when syncing to cloud.
Life is complex already.
Bring simplicity, not complexity.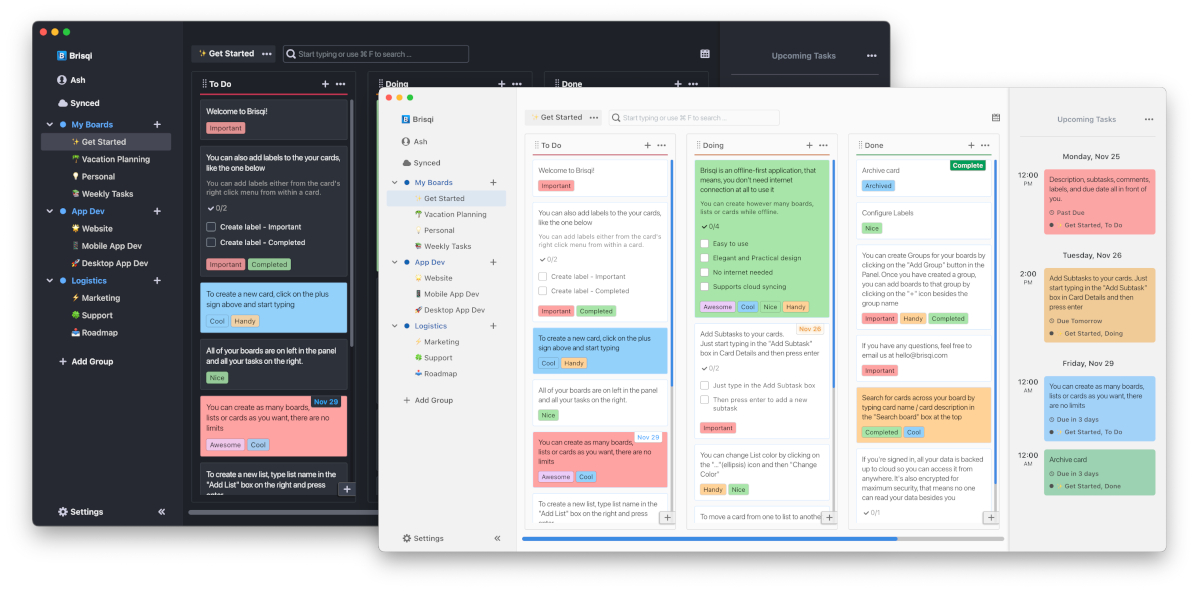 Simple. Clean Design.
Group your boards
Easily create groups for your boards. Whether it's for a project, school work or your personal life, you can create as many groups or boards as you want.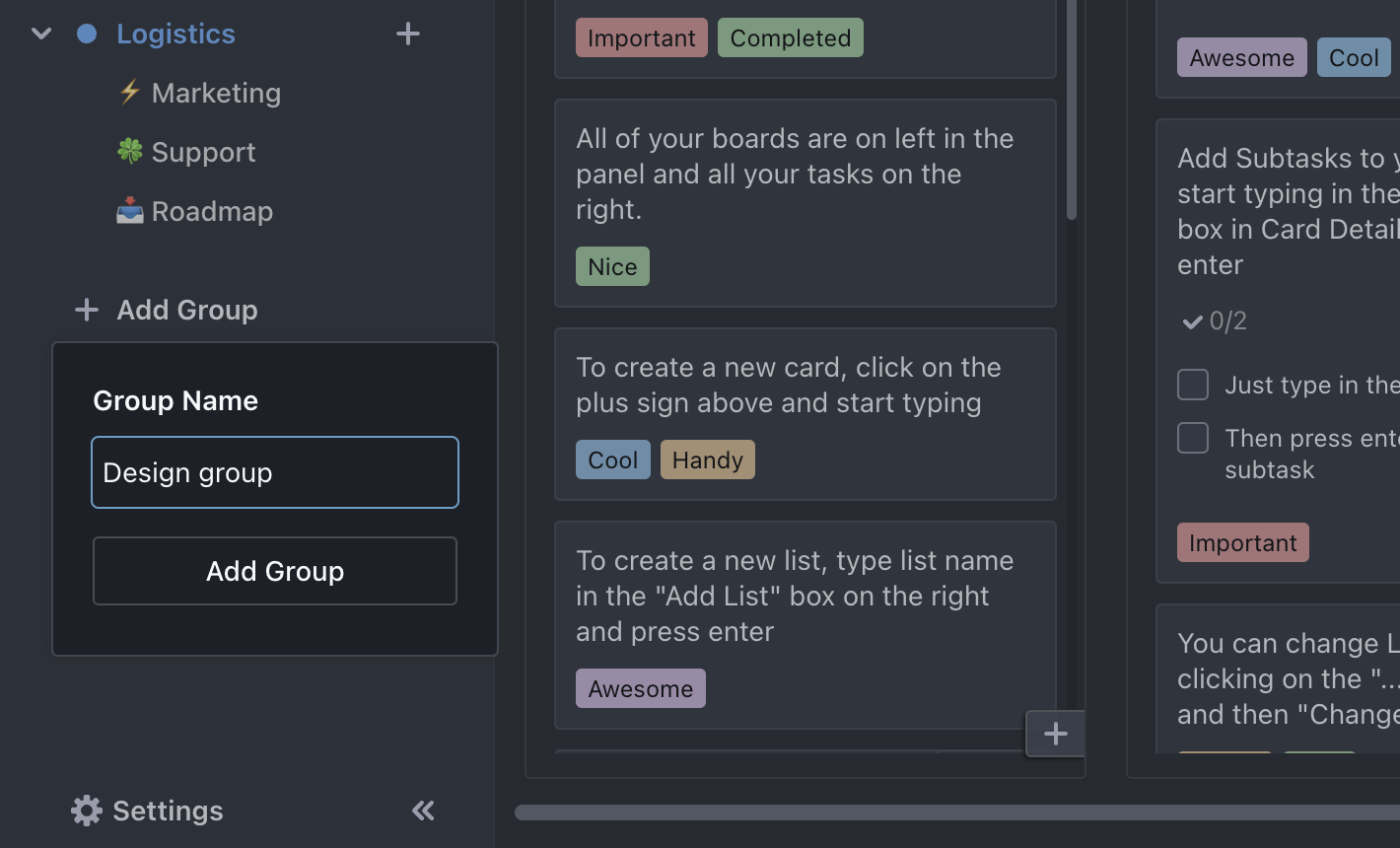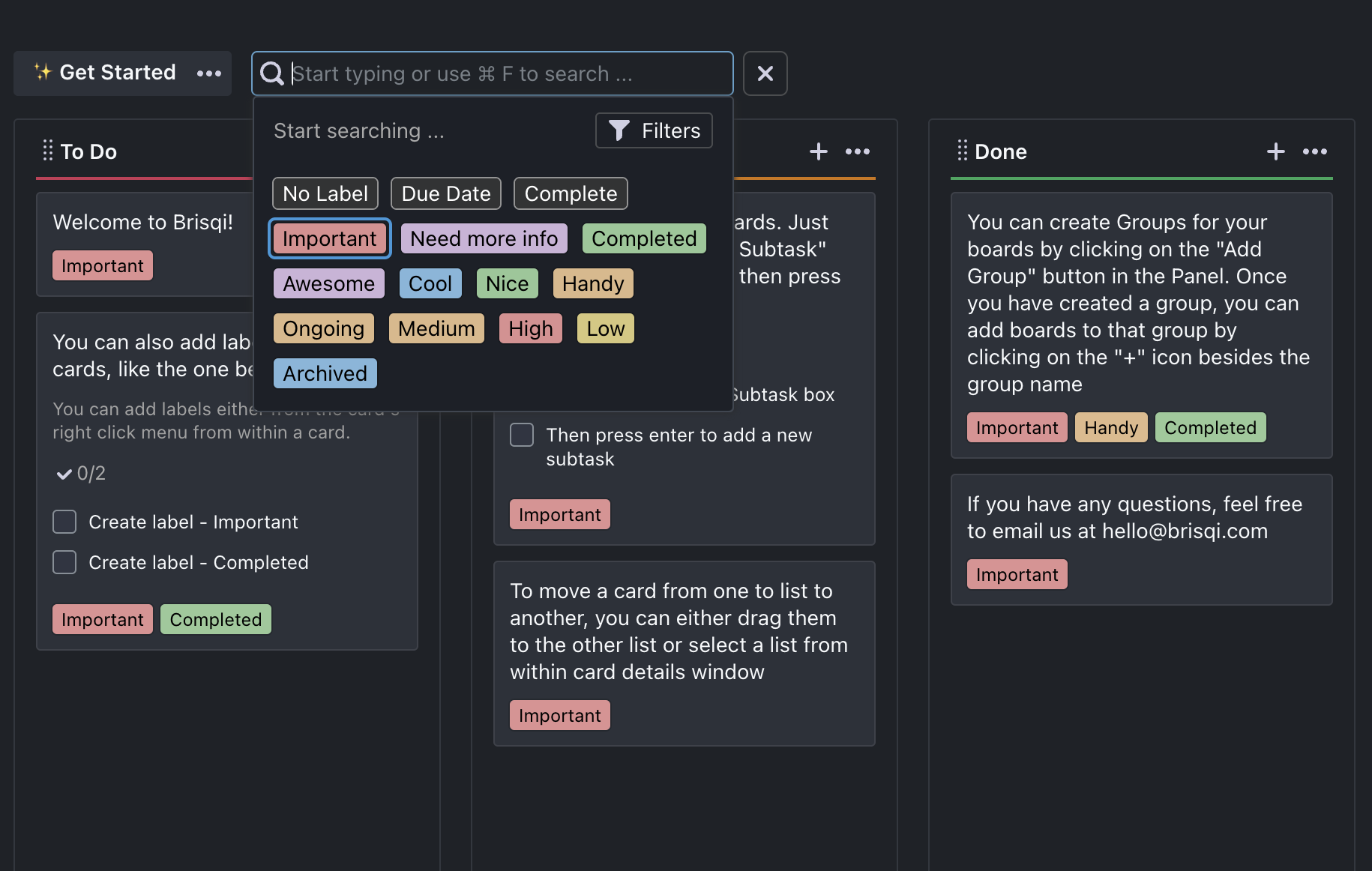 Search your board
Search for cards across your board. Just type in the search box above the board to search.
Label your cards
Visualize your workflow with labels. Labels lets you categorize your cards, assign priorities or simply color code. They help you focus on tasks that are important at that moment.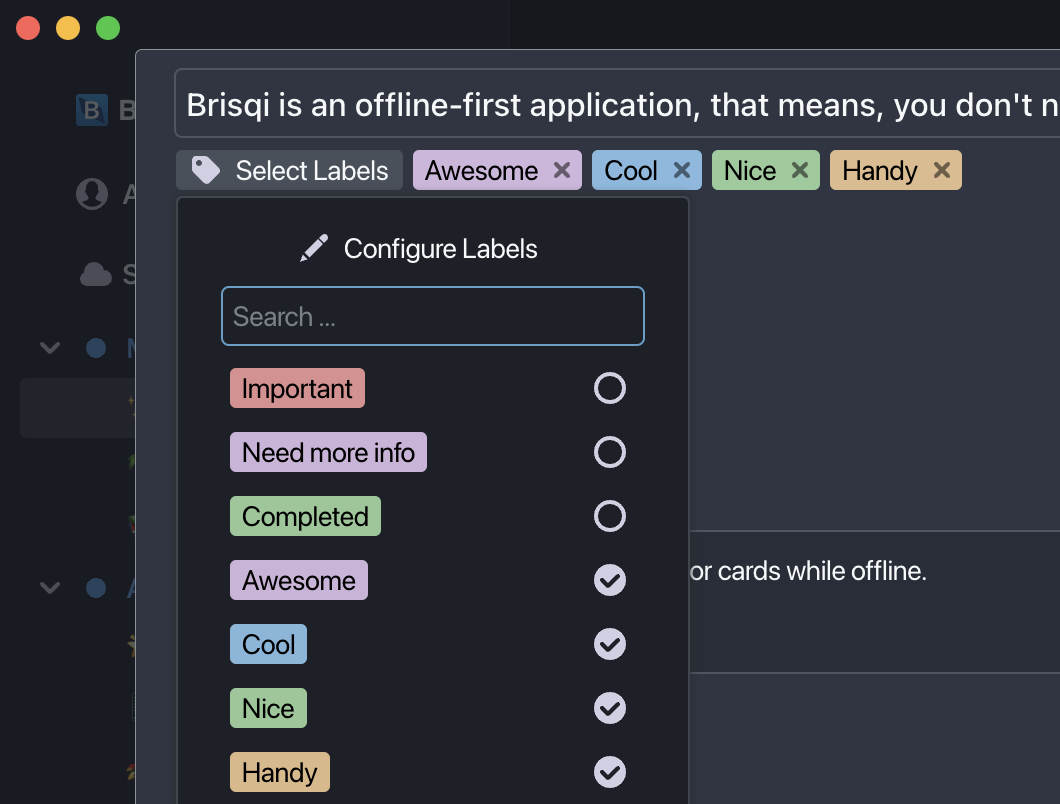 Syncs to cloud
Brisqi offers syncing across five platforms with focus on privacy backed by end-to-end encryption — so you can work on your next billion dollar idea with a peace of mind.
Here's what people have to say
format_quote
The startup is very smooth and fast, it's incredible. Being offline-first is one of the features that I can't let go of. I spend most of time in very remote places where internet connectivity is always a challenge. Having the cards ready to go, no matter the location, is a blessing. Thanks for making the app and the regular updates.
format_quote
I gotta say, one thing that attracts me to it is that, while I've used kanban web apps before, they had too many bells and whistles because they were trying to appeal to teams. And while a team leader may find that attractive, it was too noisy for my personal focus. You're hitting the nail on the head with a personal kanban app that keeps it simple. And I hope it never loses that focus.
— kindaa_sortaa, Reddit
format_quote
Thank you for making Brisqi, giving the world the offline kanban it very much needs. Finally I found a place to track my security-sensitive projects in the knowledge that the data does not leave my office.
format_quote
"It's simple and straightforward, no unnecessary complications."
Behind the scenes
Hi, I'm Ash, Founder of Brisqi!
Initially, I created Brisqi for myself because I needed a simple offline productivity app to manage my side-projects. I wanted something where I don't have to worry about internet connectivity and data privacy. At the same time, if I want to sync my data and access it on a different device, I should be able to do so. I created Brisqi to solve all those requirements.

Brisqi is a life-long project, I created it for a niche audience and myself. I'm constantly working on improving it. If you decide to use it, I hope you find it as useful as it is to me.

You can get in touch with me via Twitter or email.